I ran across an "unconfirmed" report this morning that a white man was
refused service
by a black Obama supporter at a Winston Salem Kentucky Fried Chicken a few days ago.
THIS IS AN OUTRAGE!!!
What the hell was he doing there? Meat is murder.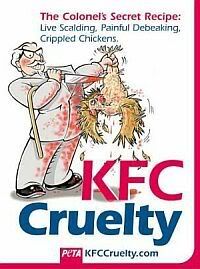 I'm skeptical of this report. Very, very skeptical. Ok, I'm more than skeptical. I think it's bull. Not only bull, but predictable bull.
I'm going back to sleep now. Still trying to recover from celebrating Obama's victory.